February 8th, 2018, 1:25 pm
Serious vehicle load there Splash!!, one ship armoured assault!!.
February 8th, 2018, 7:35 pm
Postimage appears to be working again
Two more big tanks to add to the stash
The Meng Mk.V looks awesome, it has the full interior set as well as what looks to be a very nicely rendered exterior. I've been after one for a while but managed to get this in an auction listing so saved a fair bit. The Hobby Boss Sturmpanzer has got very good write-ups, and again looks to be an excellent kit with a full interior
February 9th, 2018, 4:15 pm
A couple of additions to my Bandai Star Wars sub-stash; two of the 'palm-size' series (kit No 012) AT-M6 Walkers as seen in 'The Last Jedi', plus a collection boxing of Resistance Vehicles from 'The Last Jedi'. Interestingly, the X-Wings are stated as being 1/350, which although I had guessed as much is the first time I have seen it on boxings (although it's probably been there, I've just not seen it!
). As ever, the detail is sublime
This makes a 'whif' diorama of The Resistance V Bismarck at 1/350 possible
February 10th, 2018, 3:11 pm
My acquisitions of the last month or two....
First one is one I was discussing with Gregers. Found one on Kingkit, just over £30 but couldn't pass up the chance. Don't really see them that often.
Hopefully will be done as an RAF version.
Also...
Will be doing this one in this scheme in honour of my Uncle who worked for the RM/Post Office for about forty years I think....
If anyone knows if there are decals for this scheme I would be grateful for any information.
And after the success of my Figures GB entry, I've gone for another one but with a modern twist. Didn't pick a female Police Officer, just happened to come up and was less than £7. It is split into upper and lower body so should be able to make adjustments to make it fit. Will also try and make a blanket type thing for the back of the horse part in police colours/markings.
And finally this one also 'inspired' by the Figures GB...
February 10th, 2018, 6:21 pm
Got a few more...
Another grail kit,I built this when I were knee high to a grasshopper..
February 11th, 2018, 2:01 am
Just got this for beer money as no box...
Mk 1 Ford Escort.
February 11th, 2018, 3:21 pm
Airfix A03301 L.C.M. Mk.III and Sherman
February 11th, 2018, 5:54 pm
Ratch wrote:Airfix A03301 L.C.M. Mk.III and Sherman
One of my old favourites from Airfix.
February 11th, 2018, 6:15 pm
Mine too
February 11th, 2018, 8:19 pm
Back from the Huddersfield show with a few additions.

Airfix HO/OO Engine shed x2
Airfix HO/OO Evening Star
Airfix 1/600 HMS Hood
Matchbox 1/72 SAAB J-29F
February 11th, 2018, 11:28 pm
have also been to huddersfield today,very restrained in my buying only one kit airfix 1/600 King George V 06205-1 being a earlier boxing the parts look fairly clean with little flash ,question can this KGV kit be built as the Duke of York with minimal /no alterations

cheers craig
February 12th, 2018, 12:32 am
Pretty much got what was I was after though no AZmodels Chipmunk in RAF. Got the Fury for £22 so was pleased as all the others I saw were £24.49 RRP. The Buckeye is a kit for my daughter. Best of all the quest to build and paint all things Hu 181 Glossy Sea Blue may continue after rummaged through a large box of rusty tins - 50p! I decided not to haggle.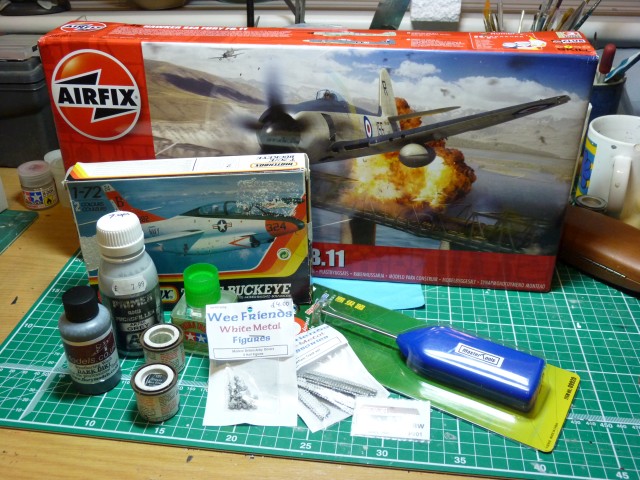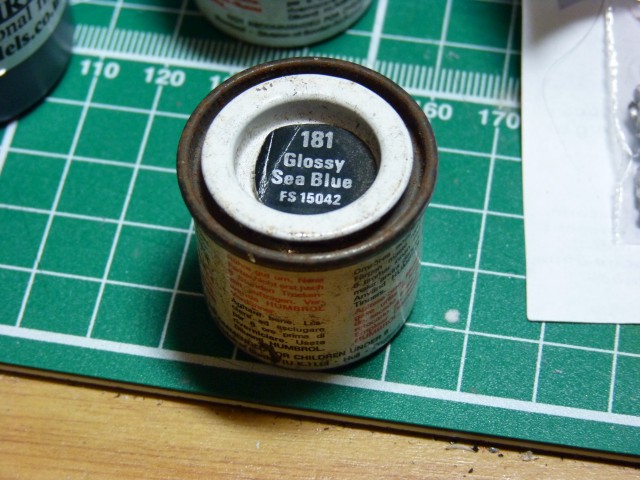 February 12th, 2018, 12:45 am
planecrazyman61 wrote:question can this KGV kit be built as the Duke of York with minimal /no alterations

cheers craig
There are some significant differences between the two ships. But if white ensign were still around you could get everything needed from them. You need to identify at what stage in her life you want to model her. All these ships went through various refits and additions most years or bi-yearly. (WEM are still in existence in USA now, so do check what is still in their range, and what you need to source, Jamie Duff up in Scotland who does the colourcoat paint, still orders WEM and Pontos and other firms bits n pieces, so you can talk to him and get the parts assuming WEM still do them)
But ... The most obvious and noticeable differences between the DoY and the KGV are that one of the decks needs to be much larger and different on the bridge superstructure, - think it is the signalling deck?? the secondary armament will need changing,
aft stack platform needs to be enlarged and beefed up a bit , you will need to obtain some - nor sure how many - but probably 8 or more of the 4 type xPomPom mounts, and you need to look into the type of Oerlikon. I may still have some plans and drawings I can help with if you want to go this route,
but the KGV built just with the small GMM aftermarket set makes up spectacularly if you dont want too much hacking and gnawing
Exactly where the plans and drawings etc I have, are at the moment is something I dont know, other than in one of many boxes still... buy have sent you a PM in reply as well,
February 13th, 2018, 6:15 pm
Hasegawa 1/72 Crusader Mk. III
February 14th, 2018, 10:41 pm
Ratch wrote:Hasegawa 1/72 Crusader Mk. III
That's a coincidence the postman delivered the same kit to me yesterday.
It looks a nice little kit.