This thread took a bit of finding! As it's Saturday, time for some modelling and on with the Big Boeing build. For those of you who don't have a clue what I'm talking about, this is the continuation and hopefully eventual completion of, my Heller 747-200 that I failed to finish for the recent four or more engined group build. Welcome then to my world of stretching sprue and attempting to paint very large airliner models gloss white. So far, this model has consumed one bottle of Tamiya matt white and three bottles of gloss, applied in several thin coats with a micromesh flatting off/sanding cycle between each coat. Patience is a virtue with applying gloss white on this scale, I can tell you! I know I could have tried a rattle can but I'm not that keen on them and have never achieved a good result unlike some of the members on here. That said, after this saga I might give a rc a try the next time I have to apply gloss white - never say never
This afternoon has been once again spent in a haze of acrylic paint fumes (yes I do wear a decent mask) but at last though it is now looking uniformally white rather than somewhat patchy.
Here's the left hand side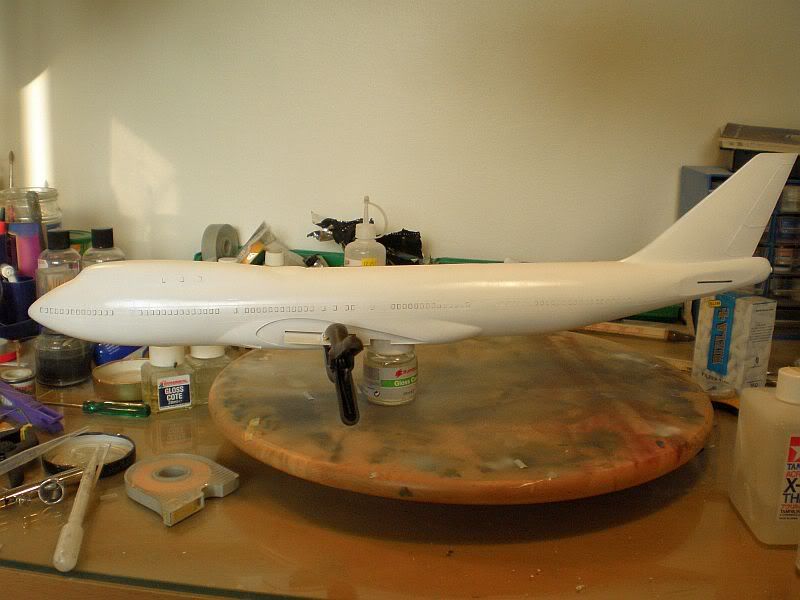 and the right from just off head on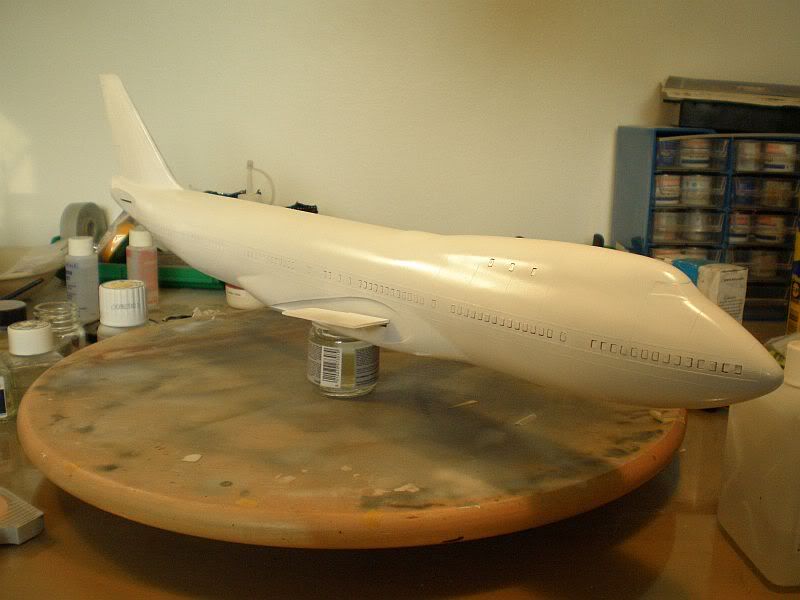 Those of you who have been following this saga will recall my repair of sanded out raised panel lines with stretched sprue. I hope this next shot gives you an idea as to how those repairs have faired under the paint. The sprue has been sanded down two or three times since it was fitted as I thought it was too prominent. I am reasonably happy with it now and I feel it is certainly an improvement over panel lines ending halfway up the fuselage.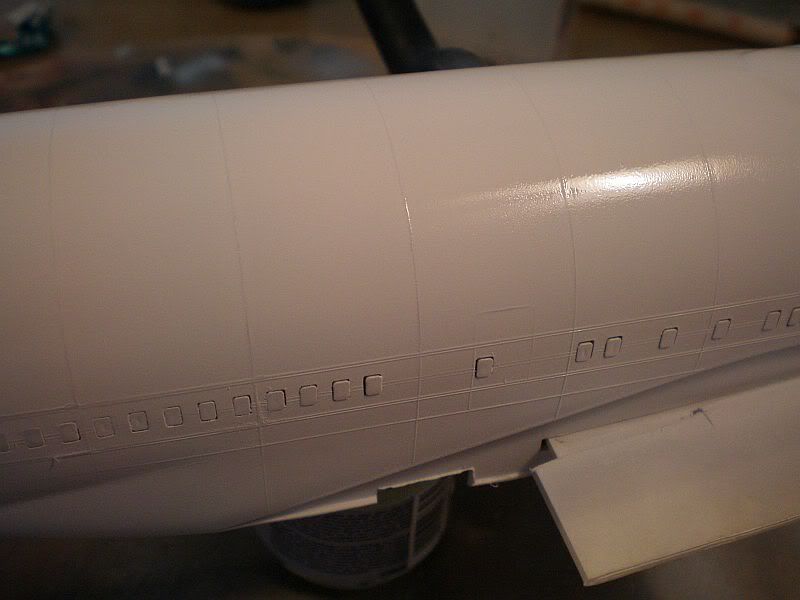 I'm going to give the white a rest tomorrow and turn my attention to the wings and tailplanes (I don't want you all to die of boredom watching my fuselage steadily becoming more white
). To assist with holding and manoevering these pieces I have temporarily fitted them together with decorater's masking tape and Tamiya tape. The card stiffened with old sprue attached to the wing joint is to counteract their tendancy to pitch backwards so that when painted I can rest them on a couple of jars whilst the paint dries, as shown.
I have joined the tailplanes in a similar fashion using spare sprue from the kit itself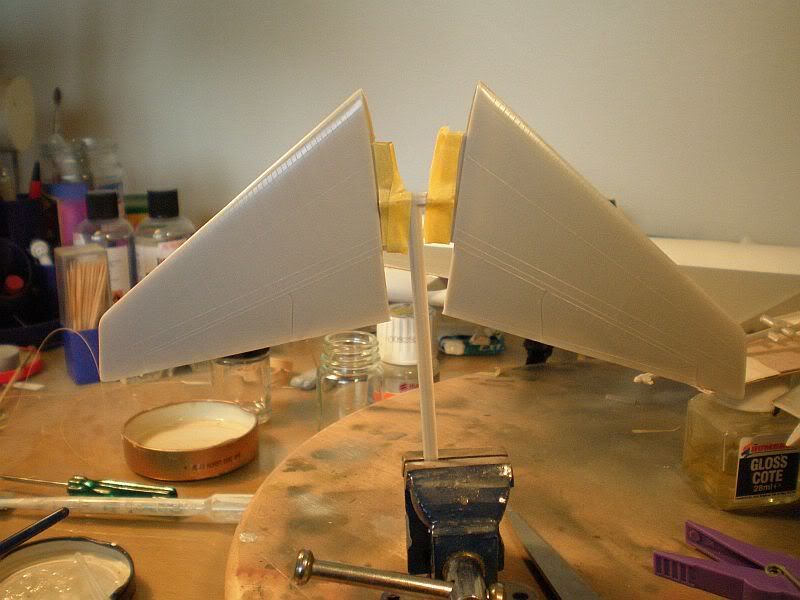 The colours for the wings and tailplanes have caused me some considerable hassle. I have looked for ages during this build on the interweb thingy but cannot find any brilliant images for this model of 747 in Air France livery. Heller helpfully suggest light grey and I think I will probably go for an undercoat of light aircraft grey followed by a top coat of Light Gull Grey for the outer panels and a darker grey (not decided on the shade yet) for the inner panels. In the absence of proper references I will have to use the ever reliable TLAR System (That Looks About Right!). The leading edges will be natural metal. Time for some beers and a curry now I think.
As always, thanks for your time.