I've taken some pictures of the new "modelling hole" using my mobile phone. Unfortunately, despite having a considerably better picture definition than my old camera (13Mp compared to 5Mp) the phone doesn't take such great pictures. Good for high def snapshots but not a great deal else.
Please bear in mind that the house is currently undergoing some renovations and parts of it are rather like a building site so there are, naturally, some background bits of tasteless and past their best wallpaper and woodwork that are due for imminent replacement
. This is, after all, a temporary modelling space and was originally built to house a computer.
So here's a tour of Potters old home.
First a general overview of the majority of it. This is in one corner of our lounge as Mrs Dazzled likes me to be nearby.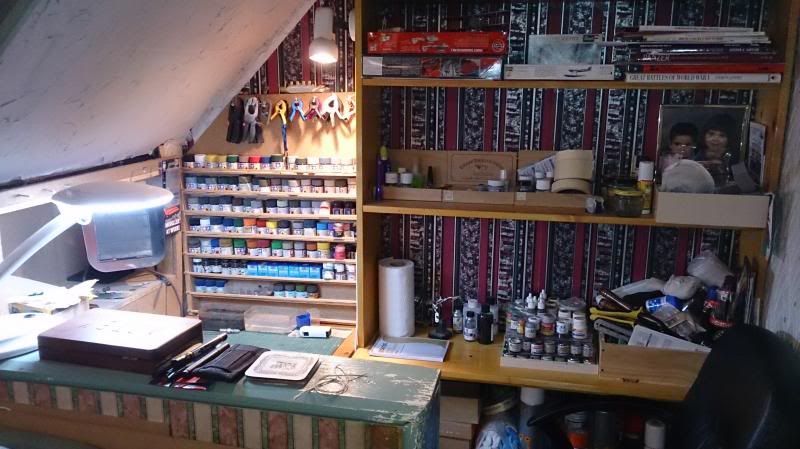 As you can see, I don't have much space to play with so everything has to be kept in it's place. I have a comfortable office chair so I don't get a bad back and behind this are some low level shelves where I keep rattle cans, boxes containing spare paints and pegs, trays with rigging supplies and soldering equipment, some protective gloves in a bag, files containing old instruction sheets and spare decals, a large organiser box containing paints ready thinned for spraying, and my second airbrush, still in it's box.
Despite the lack of space and the fact that it's under the stairs I do have a lot of light provided by a conventional wall mounted reading lamp to the right and the daylight lamp, that Mrs Dazzled bought me a couple of Christmases ago, on the left.
Under the bench I keep my compressor.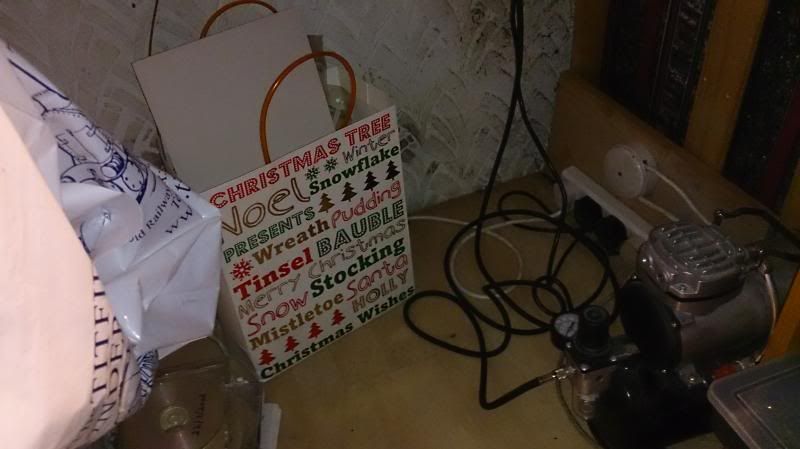 The Christmassy gift bag contains plasticard, rod and a few other useful scratchbuilding bits and bobs. The plastic bag on the left from the "Titfield Thunderbolt" bookshop is clamped to the bench edge and serves as a waste bin.
On my right I have a set of built-in shelves. These hold...
Some cigar boxes, donated by a friend, that hold cement, fillers and masking/decalling stuff respectively. Next are jars of thinners (white spirit x2 and IPA) then a wooden box with my airbrush spares and cleaners. The small Maglite torch is there to search the floor when some small part attempts to fall through the interdimensional wormhole under the bench
.
On the next shelf up are my in progress builds and the Revell Zero that I keep close by. It was the first kit I ever built so it is there for sentimental reasons.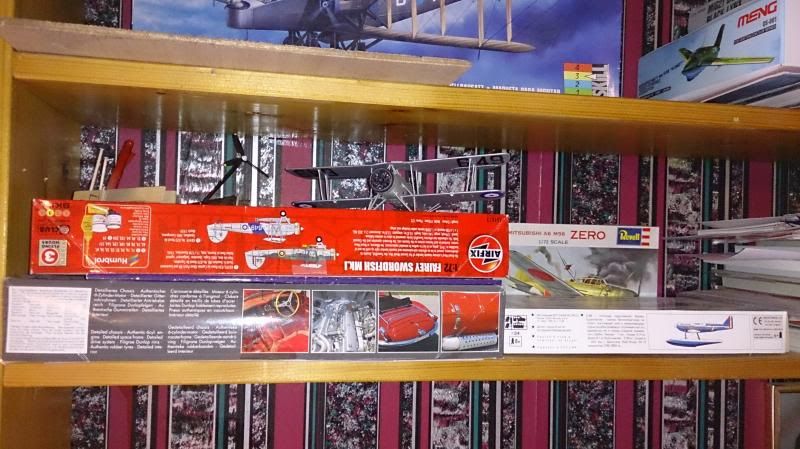 Also on this shelf are some appropriate reference books that I rotate from their other home in the loft room as required.
The top shelf is where I put my "next starts"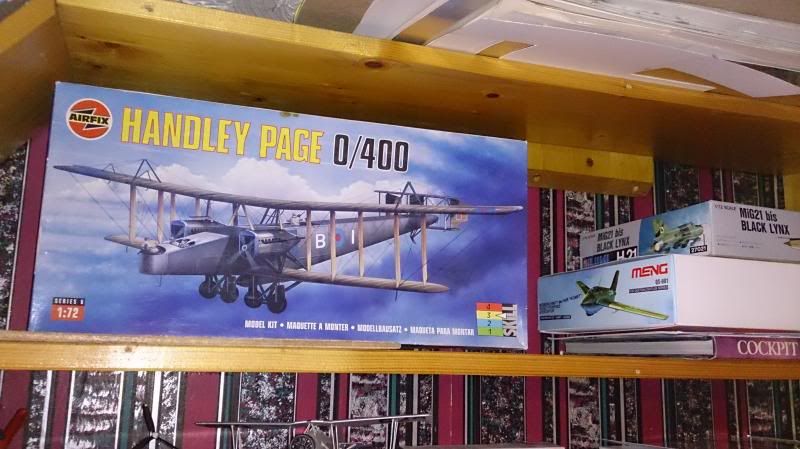 These can stay there for some time until they make it to the bench. During this time I collect research data and obtain any paints, upgrades etc. I need or want for them. These kits can of course move back to the stash to be replaced by anything else as the mood takes me but I think the three on there now are pretty certain to be started in the next few months.
At my elbow are some trays of paint, mostly Humbrol enamels, laid out in order.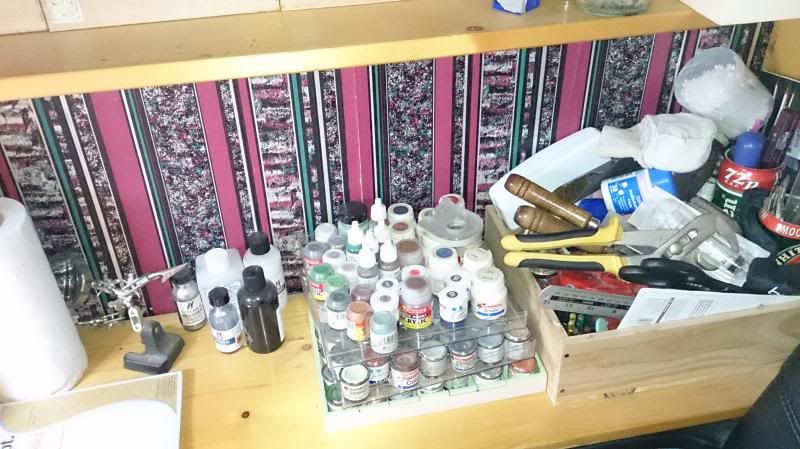 And behind (right) of them is a box of tools and equipment that are used infrequently. To the front is a magnifier and a notebook for taking notes as I work.
Moving forward to the work area and to the right, I have a tailor made paint rack that fits exactly into the available space. Almost all the paints on this rack are acrylics and most are Tamiya. The top of the rack has hooks where I hang various clamps.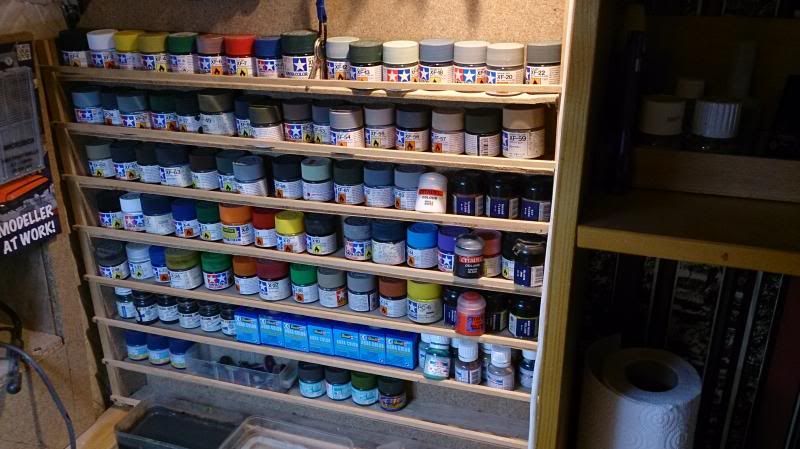 And finally, the work area.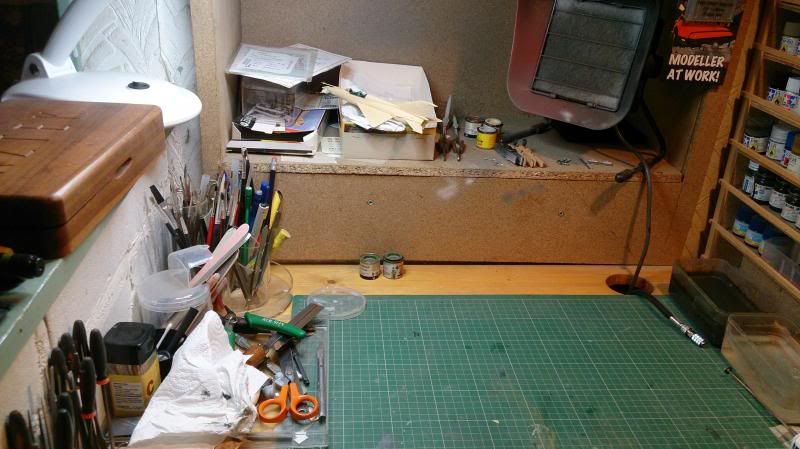 At the rear is a shallow paint booth/ shelf that is kept relatively well ventilated by the solderers extractor fan and filter. It's plug lead runs through the hole in the bench top through which I also get a feed from my compressor via a quick release coupling. The shelf/booth area currently has my Mig-21Um on it. This is getting a good dose of the hairy stick so the spray booth isn't needed at this time.
The shelf on the right has on it one of my Aztek airbrushes in it's case. This is my main airbrush so I keep it close ready for action.
The main part of the bench is covered with an A3 cutting mat and I keep frequently used tools to hand in trays/tidies on the left. The trays can be moved out of the way quickly and conveniently if necessary.
And that's it. This is the den where I terrorise plastic kits into going together. It's not as big as I'd like but under the current circumstances at home I've tried to make the best of it I can. Mrs Dazzled has assured me that once the work on the house is completed, sometime in the future
, I will have a bigger bench again.
Until then I'm hiding under the stairs.