This project was a candidate for the new year's competition of the local IPMS group, which for 2018 is to be themed 'colourful', for whatever definition of colourful one cares to use. As I've since found something better for the contest, I can de-classify this one
For starters, the traditional box and sprues shot:

Something of an impulse buy on my part, but so far I like what I see. The kit, although not marked as such, is clearly one of the easy kit series, which means it's basic to the point of being a bit crude, but with good fit and general shape. Quite sufficent for what is essentially a canvas for some really wild markings.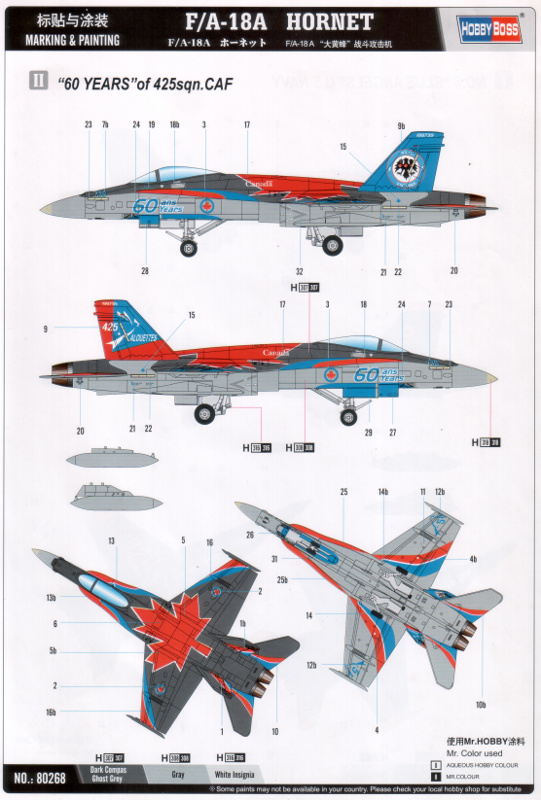 The kit contains two large decal sheets, which should perform well if past experience is anything to go by. Oddly, it contains three external fuel tanks, two VER racks, and all five pylons, but nothing to hang from the VERs and no air-to-air weapons at all. Given that neither subject carries anything ordnance, I can imagine leaving out all external stores, or putting in the current stores plus two each of Sidewinder and Sparrow missiles, but not this mix.
2017-03-28
As hoped, the model pretty much assembled itself, with minimal corrections needed to the basic frame. I expect no difficulty from the undercarriage once I get to that point. The canopy frame does need a bit of work, and a smallish amount of filler it now setting along the edges. I expect to hit the paintshop tomorrow.
2017-04-08
The canopy took a little longer than anticipated, but I got it into the paintshop last week. The first coat of humbrol 127 revealed some gaps that needed fixing, so I had to take a step back and deal with those first. If I had been paying proper attention, I would also have noticed that there was a distinct green tint to the supposedly neutral, or even a bit blueish grey. This hadn't really bothered me on earlier projects painted from the self same tin, but those were single colour jobs, while this one will get a darker, more blue grey sitting next to it. As it is, I only realised the green tint stood out like a sore thumb after repainting. The lid on the tin seemed to suggest this was a quality control issue, not intentional, so I grabbed a far newer production tin from the stockpile for comparison. Neutral or slightly blue grey, as expected (the grey area on the wood block firectly under the wing edge). Good thing I'd already used up most of the bad paint, or I'd be chucking out yet another full tin of paint from the dark ages of Humbrol.