I had spent quick a bit of time cleaning up the awful state that the spinners were in. Luckily I could remove the props as blurred ones would be added later. However these are very rounded and on looking at photos of the different marks these appear to have been introduced later on the K-46 III. The Ki-46 II which I believe the kit represents has more pointy spinners, if we check the box art we see that Mr Cross got this correct!
A rummage in the spares box turned up some Airfix F-4 drop tanks that had the right profile.
While the spares box was out I also located a couple of Matchbox WWII pilots (right) who were a little more human than Airfix's efforts (left)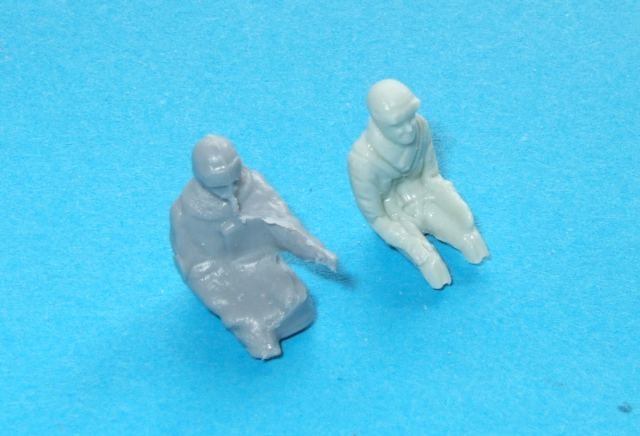 Here is were I'd got to with the fuselage before I closed it up.
A - the nose light should point forward rather than down. This was cut and filed open and then boxed in with card.
B - the IP was miles away from the pilot. I therefore made a new one and added dashboard. A small head rest was added for the pilots comfort.
C - the rear canopy sat too low so some shims of card have been used to make it flush with the line of the roof. This aircraft has very nice lines so it's worth trying to have them flow uninterrupted.
You can also see the cameras which I've just painted black in the lower fuselage.