After prep'ing and painting the back room for 6 hours there isn't a lot of time left or energy for modelling. I've however managed to get a a lot if the final details sorted out most of them involving stretched sprue.
Two anti-aircraft gun emplacements had been created with milliput. The men and machineguns were very simply drawn on card with colouring pencils and then cut out.
Machine guns bursts on the anti-aircraft and Corsairs were all made from white sprue which was then painted flame yellow and orange. The sprue also made the flag pole.
The larger Corsair is dropping a bomb. Rather than fiddling with a tiny bomb and wires to hang it by I stretched some clear sprue and bent it into a curve while still soft. One end is glued to the underside of the a/c the other painted black to represent the bomb.
The burning Dinah was made quickly from scrap plastic - I've not even painted it apart from the roundel. I needed a fireball to added to it from which the smoke will emanate. After playing around I found that pulling expanded polystyrene apart created nice shapes and would really work well for larger fireballs. I only needed a tiny one but it's something worth trying.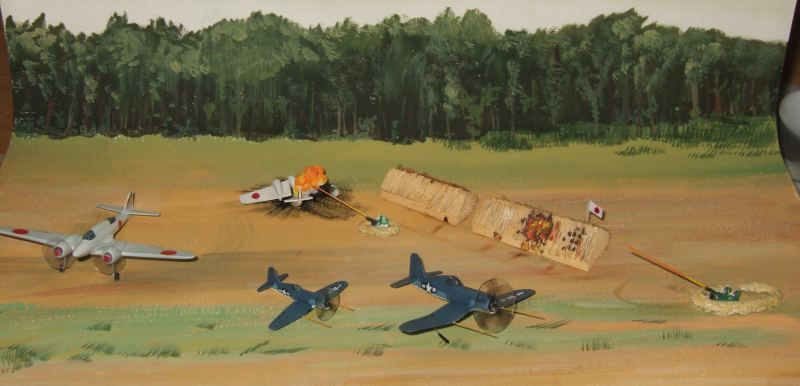 Just the finally construction to do now. Getting everything mounted in a strong and transportable way.