This model required a lot of masking and much of it quite tricky. The grey underside need to follow the cheat lines down the side of the fuselage and under the nose. For this I traced a paper template from the decals and reduced the bottom edge by 2mm. I then tape this to the model and marked the edge and masked the white upper to this line. I use Light Aircraft Grey as it looked the closest match in my selection of paints.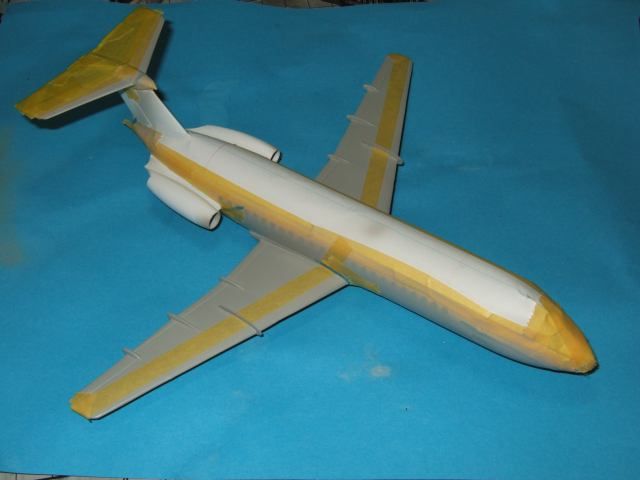 This was then followed by a lot more masking for the NMF leading edges and engines. I used Alcad Al and then over sprayed some dull Al on the engines after masking off a few panels. Not technically accurate but added some interest.
I lightening some dark blue with grey (in fact used black and white paint) to try and match the decals but didn't go far enough, however it does seem closer to the Caladonian colours than the pale decals.
I could then finally pull off all the masking. At this stage the model didn't look great, the surface finish is far from my best and the would have benefited from rubbing the primer layers done, if I had the time.
Late one night I decide to go for it and get the decals on. Though thick they were easy to handle and went down well using Micro Sol&Set. The cheat lines come in two parts, the rear is slightly wider than the front part annoyingly and didn't fit correctly round the nacelle mounts which require a little snip. A couple of judicious slices in the decal helps it conform to the nose as well - it did show that my paper mask worked everywhere apart from under the nose where the grey has left a significant gap to the decal and will need touching up. The model however is transformed by the decals and despite it short comings does look pretty good now.