As far as I can remember this is the first kit I ever built. At the very least it's the first tank I built and still one of the few tanks kits I've made. A newsagent had this in a display in the centre of the shop and I would look at them every week when I went in with my mum. The closer I got to them the more the owner scowled at me. Eventually I got mum my to buy me one, though I doubt this put a smile on the newagents face.
When I got it home my distinct memory is being perplexed at the number of wheels I had to construct. When I complained my mum replied succinctly "Well it's a tank isn't it". I have know idea how much further I got with the kit and whether I finished it at all.
I wasn't too sure if this was the actual kit, the only recollection I have apart from all the wheels was that it was Matchbox and a desert tank. I worry though I'm mixing later memories. Regardless this build shall stand whether in reality or metaphorically as my fist kit!
I had an hour to myself after knocking down walls in the garden and so decided to crack on. After reading another thread about how the wheels on the spruce lined up with their mounts I had a thought that maybe I could do something similar with the two halves of the road wheels - there are rather a lot you know. I cut the outer faces as strip from the sprue and found that they matched up perfectly with their inner halves.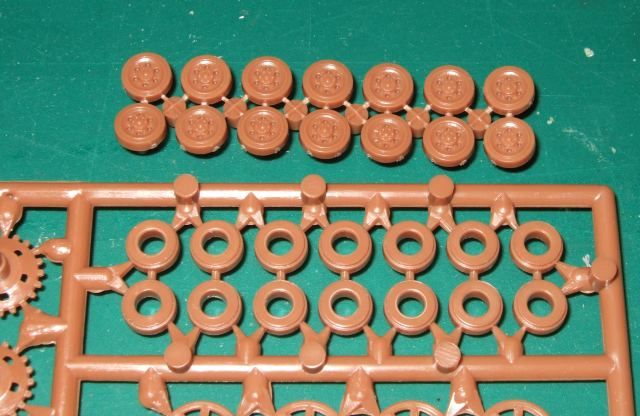 After 33 years I triumph!
50 mins of relaxing building got me this far.
The ammo store is not a great fit and will need a touch of filler. The hatch doesn't fit into the copula without a bit of trimming but generally everything fits where it's meant to.