There are a few other things, apart from working for British Airways, that eat into my valuable modelling time.
First off, I'm a mature student, studying with the Open University for a BSc in Engineering Business Design (Design and Innovation). That eats up a fair bit of my time although, since last week, I'm on a 3 month study break after 2 1/2 years non-stop academic work.
Another thing that I do is voluntary work at a small heritage railway in the Garw Valley in South Wales. Until last month, when I stepped down due to work and study commitments, I was the Director of Engineering, a post I filled for 2 years. My pet project at the railway is this.
It's a 1956 British Railways Shark ballast plough brake van. The picture was taken a while back and a lot of work has been undertaken since. This winter, after winning a grant for restoration from the local authority, I'll be putting an aluminium roof on the vehicle. Not original but eminently practical for a railway that aims to operate the Shark as it was intended.
And lastly, but definately not leastly, I've been a biker for (hem hem) years. Since my first 50cc Honda when I was 16. Being an engineer, I also have a bit of a penchant for rebuilding and restoration. This is my workshop.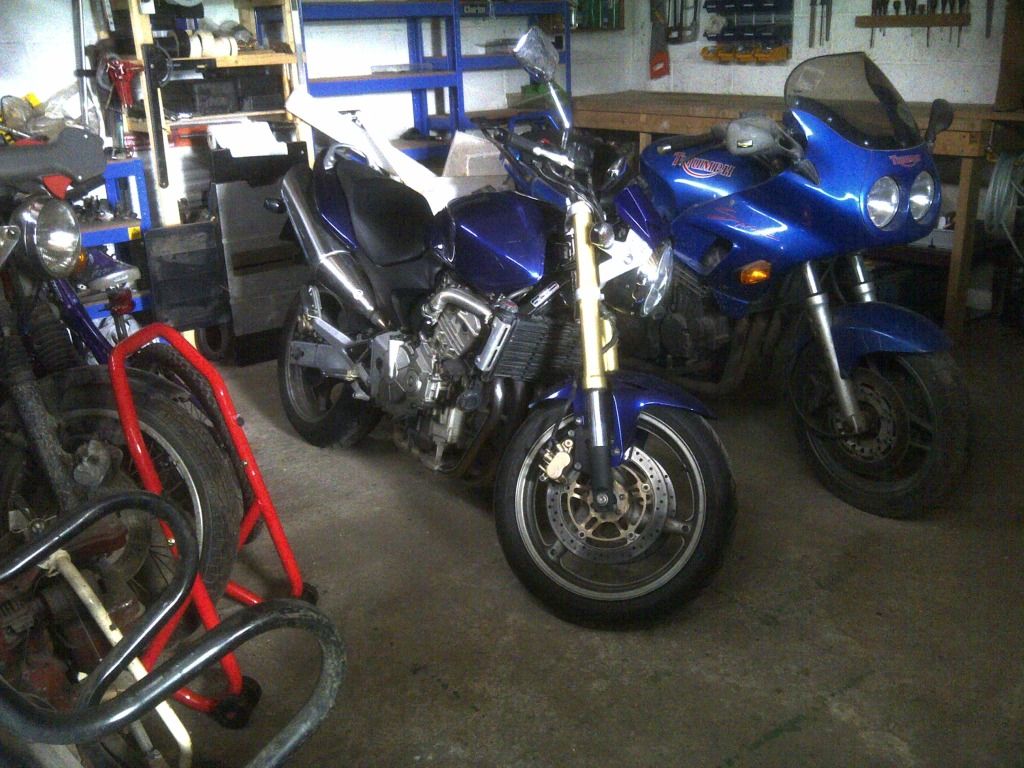 In front is a 2007 Honda CB600F-6 Hornet, bought cheaply from a guy in work as an unfinished damaged recovery project. It only took me a week to get it tidied up and fully serviced, including respraying the fuel tank. Behind the Honda is my beloved 1994 Triumph 900S Sprint. I've owned this bike for 14 years but, due to various reasons, she wasn't ridden for a long time. With only 26000 miles on the clock and knowing how much money and care I'd previously lavished on the bike, particularly the engine, I'm going to spend the winter, and maybe next winter, restoring her to showroom condition.
And that is what else I do when I'm not at my model bench.