I wasn't going to do a whole mob of figures, but I tend to fuss forever over Napolonics, and this
is
suposed to be an Airfix forum, so I'll tackle a mob anyway. Quick view of the box and it's contents: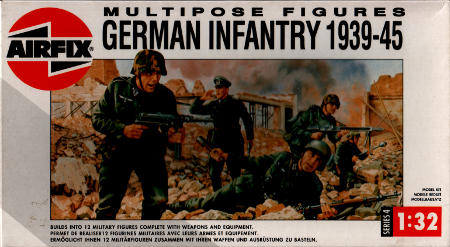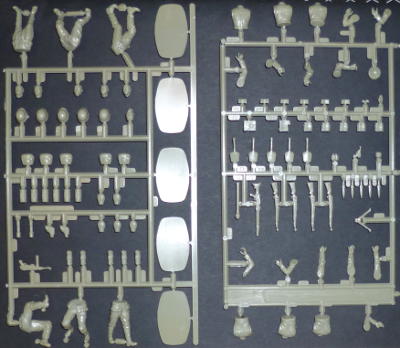 This is probably
the
single most frustrating re-issue I ever ran into.
A lifetime ago, in the early 80's, I got my hands on a set of the original issue, loved what I saw, but somehow, the build failed. I don't recall what went wrong, but the result was that I wanted a re-match. Don't for one moment believe a replacement set was available anywhere within my reach. So I searched, for years, and came up empty handed. This particular set was apparently released in 1990, but this too never showed up in my range. In the late 90's, I finally stumbled into a set of the original issue, and pounced on it. This was now the closest thing to a collector's item in my stash, and was torn between building it or keeping it around for it's nostalgia value (I wasn't doing a lot of bulding at that time).
A couple of years later, internet, and in particular, eBay took off, and suddenly, this re-issue was available everywhere. Woohoo, I could have my cake
and
eat it! When these re-issues arrived (all six sets, of course; I now had a budget and a source..) I was rather disappointed. OK, you effectively got two sets per box, but the plastic used is some of the worst I've ever seen. Rock hard, yet with no particular desire to hold detail. Not at all what you want for kitbashing or conversion, and I had ambitions in just that direction (never got beyond ambition, of course). This generation of multipose figures went onto the "who knows, maybe someday I'll find a use for them" pile, while I built up a supply of original issue sets.
By the time I'd built up a decent supply of originals, Airfix did another re-issue of the multipose figures. Not expecting a whole lot, I bought some, and was pleasantly surprised these were once again in old style plastic.
So, in the end I had more good quality sets than I'll ever use, plus a bunch of rather dubious sets from the 90's. Just before the 2005 re-issues, I decided that since these weren't going to be much use for anything else, I would start building them OOB, in the rare cases where I take some kits with me to build in the field, so to speak. Slow going then, but I did manage to complete the
British infantry
set eventually. The 8th army set is in a "just started" state.
Background aside, what do I have here..
If we ignore the plastic, and the rather incompatible scale, this is still one of the nicest sets of WWII figures around. The multipose sets beat anything out there in terms of animation, detail, and flexibility when they came out, and can, in my opinion at least, still hold their own against kits 40 years newer. I consider that pretty impressive.
On the down side, even a relative amateur in this field, like me, can see these are early war uniforms, yet they are combined with relatively late war weapons. To the expert, there's probably half a million other things wrong with them. I'm no expert, I just like the figures
I should point out that building six figures at once in as many weeks without the benefit of a vacation brings with it an annoying probability of a most embarrassing DNF, but I don't intend to let that ruin the fun