Rather than clog up the thread welcoming Greg on board as SIG leader with theme (if any) discussion, let's have a dedicated thread.
My proposal: it's going to be hard to avoid the 100th Anniversary of the RAF next year, and anyway, I think that's a milestone worth marking.
So my suggestion is The RAF 1918-1978, in Classic British Kits. Any aircraft, vehicle or vessel operated by the RAF in a CBK available in or before 1978.
Why? I hear you asking...
Given the age, stage and interests of this merry band, I suspect a good many of us will have had this: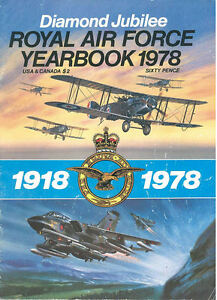 It's got many interesting articles, including the exciting "new" Tornado described and flown, a photo review of the RAF in 1978 (brown camo'd Hercules with a white roof, Bloodhound missiles, ASR Wessex, among the more familiar fare) and a Chronology of the RAF 1918-78 with much inspiration and nice colour profiles. That could be a jumping off point,
So, what else? 1978 is getting towards the end of the glory days of CBKs, but there's plenty of good kits to go at. For me, it was also when I really started trying to do more than just throw a kit together, and make a good model, so we can also follow Greg's "scrubs up nicely theme". Plenty of opportunity for the smaller manufacturers and non-"big-three" (The Inpact Bulldog, Gladiator, Fury and Flycatcher are ALL fair game, for example).
Plus I'm sure between us we have the nucleus of a solid display, but plenty of scope for new builds as well.
Anyway, that's my proposal... have at it!
best,
M.