I'll keep this post on the topic of the CBK SIG display as I'm sure there are others more capable who have already reported on the rest of the SMW show. I'm writing this Sunday night, though I'm without internet access till Monday morning, as I'm still running on adrenalin but bound to crash soon.
Matt and I drove down Friday afternoon to be met but a set of eager volunteers to set up the stand. Even with helpful hands it still took quite a while to work out how to arrange the 15 dioramas so that they were all display to their best advantage and make you of the picture frame and boxart we'd brought with us. Once happy though, we were able to seek food and liquid refreshment for the rest of the evening.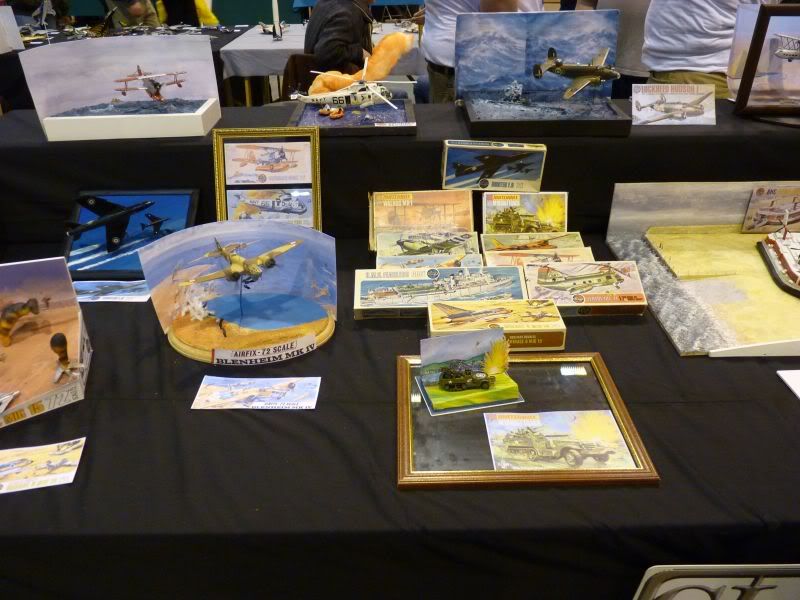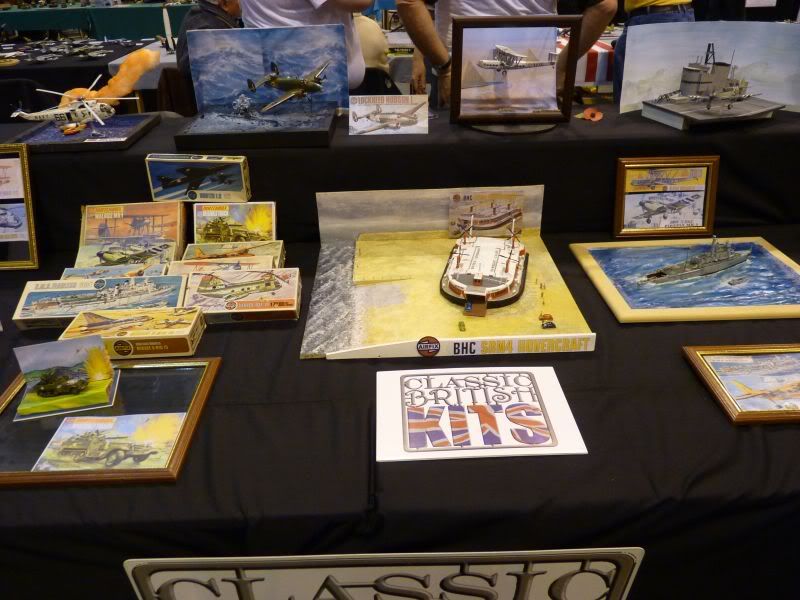 From the off at 8:30 on Saturday morning when we turned up the stand the display was getting a lot of positive comments from people. A guy who was described by his colleague as 'Mr Diorama' was very enthusiastic and promised to feature us in his
Diaerama CD magazine
. We got blogged about by a nice chap from Osprey Publishing on their
ModellingNews.com
site by the end of the day. We also received an invite to attend the Cosford show next year, after working out the logistics we are hoping that will be able take the display to the show.
On Saturday the show was extremely busy we learned that numbers on the door were up from last year by 6%. Even though we were in Hall 1 which is actually furthest away from the entrance we frankly had loads of people visiting the table sometimes it was approaching two deep. The concept and execution came in for universal praise and we even heard other groups had been discussing it over breakfast on Sunday. Even when I was doing my volunteering shift a guy came up to me on his way out to tell me that it was the display of the show. Something we were honestly told a number of times.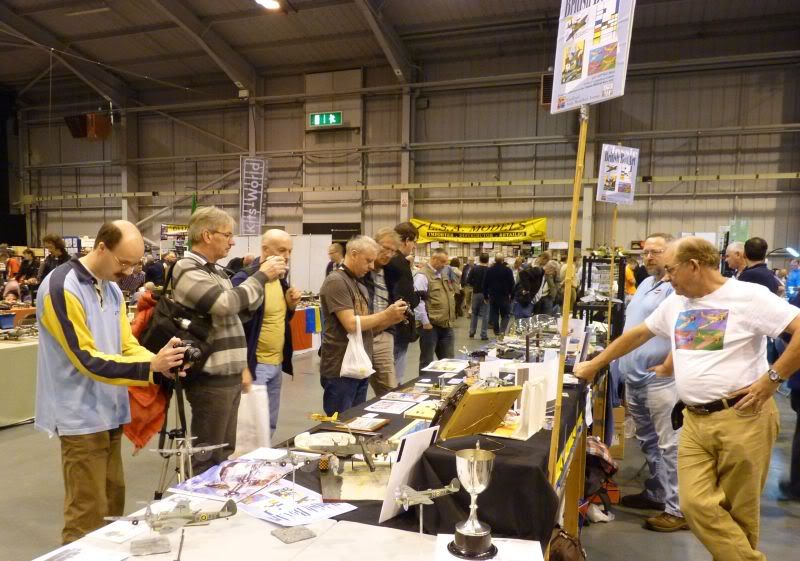 The box art idea really appealed and inspired people - I'm sure we'll see other box art builds appearing at shows in the future. I don't think there will be any stopping Beany, as a lot of weekend was spent discussing how to suspend a 1/24 Stuka by its tail
I had some time to check out the Airfix stand and I am very happy, nay, excited to say the new Gnat looks absolutely superb! I also made sure that the chap I talking to were aware of our display. Towards the end of Saturday he did indeed come over and thought it was marvellous he then went to get his mate, then a few minutes later we had half the Airfix staff looking at the table giving us great feedback. There is also some exciting news following on from this that I'll mention when we know things are concrete.
If this all sounds a bit like chest beating then it's because it is. I was really proud again of what we all achieved and to have this reinforced by the generous and kind comments made to the display team by our fellow modellers and public alike was truly heart warming and the real reward for our efforts. We rocked!
It was great to put faces to some forum members who came up and introduced themselves, Stupot, Molly-new, Malepo, and Lambretta. I'm sorry I personally missed a couple of you guys. Also good to catch up with some old friends too – hopefully we've convinced Shane to build something for Huddersfield
Oh yeah and 'Hi' to you lurkers out that who came and said hello, hope you liked the poster
A big thank you to all those who contributed builds to the display this year was a something a bit different for a lot of you and you rose to the challenge magnificently. Thank you to all those who helped man the stand over a very busy weekend – Iain (ejsnotgrass) our ever dependable Frog seeking missile, TomW, Alan (Viking), Matt (MDT), Beany and of course Team Bacon (alarmingly Jack now towers over most of us). A special mention to Barry who had come over from L.A. with his fantastic Walrus and has gone home with some bling after his HP Jet Stream not only got a medal but also the Airfix Cup and Handley Page Shield. In addition he will return home with some British colloquiums to amuse his friends with. I also like to thank everyone who has given support and encouragement over the run up to the show it all really helps.
Personal thank you to Iain, Julian and Barry, it was a pleasure to spend the evenings in your company and a jolly good laugh.
Some great news about next year's SMW is that IPMS plan to expand and use part of the newly built Hall 4 especially as this has a glass wall which makes it a perfect location for the competition area. Then in 2013 for the big 50th if the money stacks up then the biggest model show on earth will be even bigger and take up all of Halls 1,2,3 and 4! The only problem is I have no idea how anyone if going to be able to get around it all in only two day
It was a non-stop great weekend from start to finish mainly fuelled by adrenalin and enthusiasm; yes I do resemble an excited puppy* as I race around contradicting my statements that 'I wasn't really looking for any kits this year'
The only dampner on the weekend was on the way home - I bought a coffee, only to find the plastic top hadn't been put on properly when I poured half the contents down by Box Art T-shirts
* King Charles Spaniel