I couldn't resist picking an attempt at creating the box art for the good old Airfix SH-3D '66'.
I bought this from good old fleabay for a reasonable price - its a 1979 issue that was still sealed.
The decals are slightly yellow but a bit of time in the window/sun should sort them...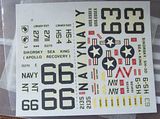 For the Apollo command module I will use 'Columbia' from this set for a bit of scale depth -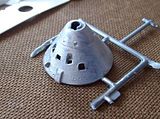 This set actually belongs to my nine year old daughter who has kindly allowed me to use her command module, which she had already started building and painting.
In the process she is now determined to enter the under 11 SMW 2011 competition with the Lunar Module also from this set for a moon based diorama - This is now turning into a family mission!