Sometimes I think us modellers are far to quick to write off old decal sheets and dig into our wallets for costly after-market stuff. Trust me when I say.... OLD DECALS NEVER DIE! They just need a bit of TLC. Being that I often build really old kits, I have become a bit adept at saving old decals and have never gone to the after-market for direct replacements (except for alternative markings to do a different version), and (virtually) all old decals can be saved and used one way or another, so I thought I'd write this.
Here's six of the most typical symptoms and some of the things that I do to fix them (photos near the end).
1. Yellowed decals.
This is the easiest fix of all. I bought a ultra-violet nail varnish dryer (those things you see ladies putting their hands in when in nail bars), they're about £20 UKP from Amazon, but it's paid for it's self over and over by saving dozens and dozens of yellowed decal sheets.
Cut a piece of plasticard to the size of the base of the inside of the nail varnish dryer, secure the decal sheet to it with some paper-clips around the edges (or else the sheet will curl terribly) being careful not to scratch the decals. Slide 'em in and turn it on. 24 to 48 hours later all yellowing will be magically gone. Tons quicker than taping them to a window for weeks and waiting for the dubious British sunshine to come out!
2. Cracked or shattering decals.
Some old decals have visible cracks and some (particularly old Novo ones) simply shatter and turn to dust in the water. Again, this is an easy fix. There are propriety products to help with this, but they're not really necessary, you can use what most of us have got loads of, Klear! Coat the whole sheet with about three or four coats of Klear, leaving some drying time in between (say 20 to 30 mins), sprayed or brushed, it doesn't really matter. Let them dry for a good while (whilst you're building the model!) and when you cut them out, cut very close to the edge of each decal. You will find the Klear now becomes the 'new' carrier film and will hold the cracked or shattered decal together long enough for application, and they will still respond to decal setting solutions just like normal.
3. Lack of adhesion.
Some really old decals just won't stick down, no matter how much setting solution you use, they just lift up or curl away from the surface. This can be pretty prevalent if they've got a bit damp in the past (if an old kit has been stored somewhere a bit damp, like a garden shed). Again, this is an easy fix, you need to float them onto the model in something sticky that will shrink down whilst drying and pull the decal down onto the surface. Once again it's Klear to the rescue! Paint the area of the model with Klear and float the wet decal onto it whilst the Klear is still wet. Carefully help it to snuggle down and expel excess Klear by GENTLY rolling over it with a soft cotton bud (Q-Tip). It won't look perfect at first but as the Klear dries it will shrink back a bit and take the decal down with it.
4. Decals that won't come off the backing paper.
Sometimes old decals just won't release from the backing paper, no matter how long you leave it in water. The fix for this is to use VERY hot water (I mean pretty darned hot!) and add a few drops of washing up liquid to the water, stirring it in. The washing up liquid will soften the adhesion to the backing paper, and the extra heat from the very hot water will also help to do the same thing. They'll come off in the end! But don't forget the water will cool very quickly whilst you're decalling your model so it's probably best to use fresh really hot water for each individual decal to keep the temperature very high for each one.
5. Out of register decals
Sadly, there's no easy fix for this one, you have two choices, be lazy and live with it (often my choice!) or, if it's just too horrid, then put them on like normal and let them dry thoroughly, then get a tiny artist brush that comes to a fine point and touch-up the out of register areas with matching paint. Once dry blend the paint and decal together with a Klear coat or similar.
If it's only one part of the decal that's out of register (for example, the red dot in the centre of a typical RAF red, white and blue roundel) then paint the area of the model white, cut out the centre red dot carefully, leaving you with two decals, the outer white and blue 'ring' and a separate red dot, Apply the blue and white ring first, then apply the red dot separately over the top but repositioning it to the correct position and correcting the 'out-of-registerness'. This will leave an area of white 'undecalled' (is that even a word?) but the white paint previously applied underneath will show through so it won't hardly be noticed at all. Once again, a coat of Klear or a Satin coat or whatever to blend it all together.
6. Protective tissue paper stuck to the decal sheet
This is common, again especially if they've got damp in the past. Very carefully get as much off as possibly, but don't tug at any stubborn bits as it may damage the decal. For the stubborn bits get a cotton bud (Q-Tip) slightly moistened (but not really wet) with warm water and washing up liquid and rub gently over the area, the tissue will start to roll up and come off painlessly. Any really tiny bits still left on will actually come off when you float the decal for application.
Now obviously, I cannot guarantee success with any of the above and I take no responsibility if anyone destroys their decal sheet trying these things out! But hopefully it will help some of you.
Now, I'll show some photo examples of the techniques I have described above with a short description to demonstrate how they work.
First up, this is a typical example of a yellowed decal sheet (Technique No.1 above), but perfectly usable apart from that. This is what I mean by paper-clipping a yellowed decal sheet to a piece of plasticard to prevent curling before sliding into the Nail Varnish Dryer.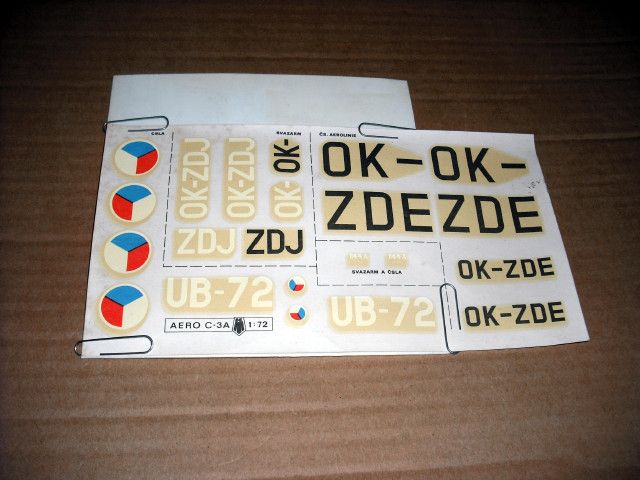 Here they are slowly 'un-yellowing' in the Nail Varnish Dryer, I left them in there for about a day or two.
Sadly, I haven't got a photo of them before I put them on the model, but here they are on the model and the yellowing had completely gone and they gave me no trouble at all (unlike the rest of the model, which was pretty awful and I made a right mess of it!)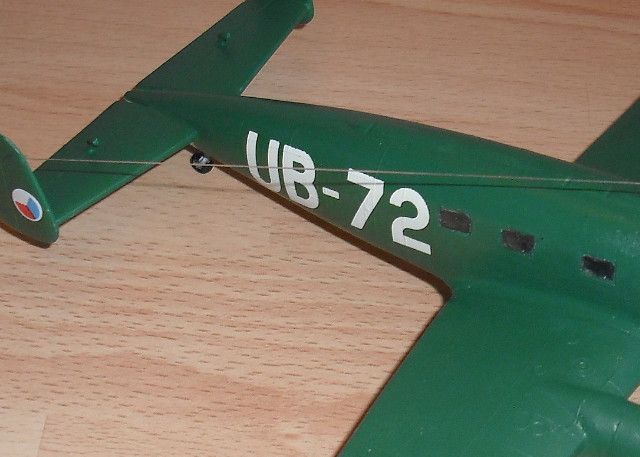 Here's an example of saving severely cracked decals (Technique No.2 above). This is the underside of the Novo Bristol 138a. The decals had dozens of tiny cracks running through them and would have simply fallen apart into loads of little bits in the water. A few coats of Klear over the decal sheet, left to dry and then applied normally meant the Klear became the new carrier film and held them together in one piece for application, they simply went on like normal. If you look closely you can still see some of the cracks, but it's perfectly acceptable for me.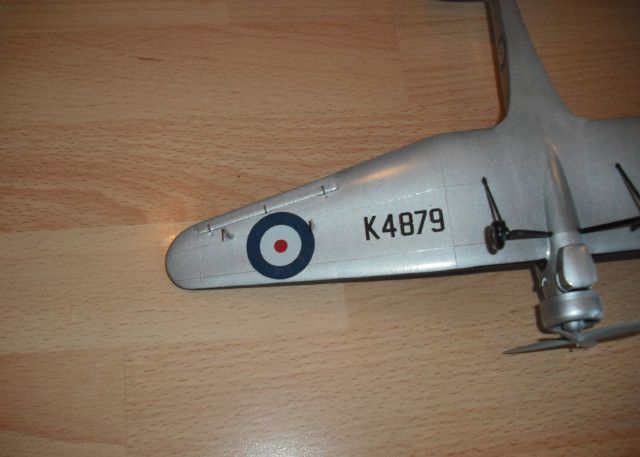 Now, the real killer question! Out of interest, how many of you would have considered this decal sheet a write-off? They were severely yellowed (almost 'Browned'!), quite badly cracked and (due to getting damp), had lost all adhesion completely. Nice eh? Throw-away job?
Nah! Absolutely not! They were perfectly usable decals, honest! Using techniques 1, 2, 3 and 4 described above, ie. a LOT of bleaching time in the Nail Varnish Dryer, followed by a few coats of Klear to hold them together, then floated in very hot water with some washing up liquid added to release them from the backing sheet and finally applied over wet Klear to restore adhesion, followed by Microsol. They came out fine, here is the evidence!
I expect there's a lot of people that might be thinking "What a performance and a lot of messing about, just go and buy some new decals you plonker", and you'd have a valid point.
But, for me, it's not just about saving the cost of After-market decals (which can be costly, usually more than these old kits cost me! It seems odd to give £3 for a kit and then give £7 for a decal sheet to go with it!). I'm a bit weird, it's deeper than just cost for me. I like Classic Kits and I also like Classic Decals as well, and I get a strange but rewarding sense of achievement from saving those dead decals and bringing them back to life.
I hope this helps some of you CBKers out there in Forum Land.
Regards,
Zee28