July 17th, 2016, 7:01 pm
This is not my idea, but I can't find the original post or poster where I originally saw it on Facebook to give them credit, but it is certainly well deserved. The gist is - battery powered, flickering yellow tea-light candles - less than a fiver for 12 on Amazon, half kilo bag of padding material (for stuffing toys) less than £3.00 delivered on eBay (I just used a small fraction of it here), Pound Shop grey primer and matt black spray paints (guess how much each?!) and my old Revell 1/32 Zero - because it was the closest to hand. This is just a quick build-up demonstrator if you like. Now I will work it into a few full-on dioramas of various scale and add red and yellow paint to the explosions as the OP did.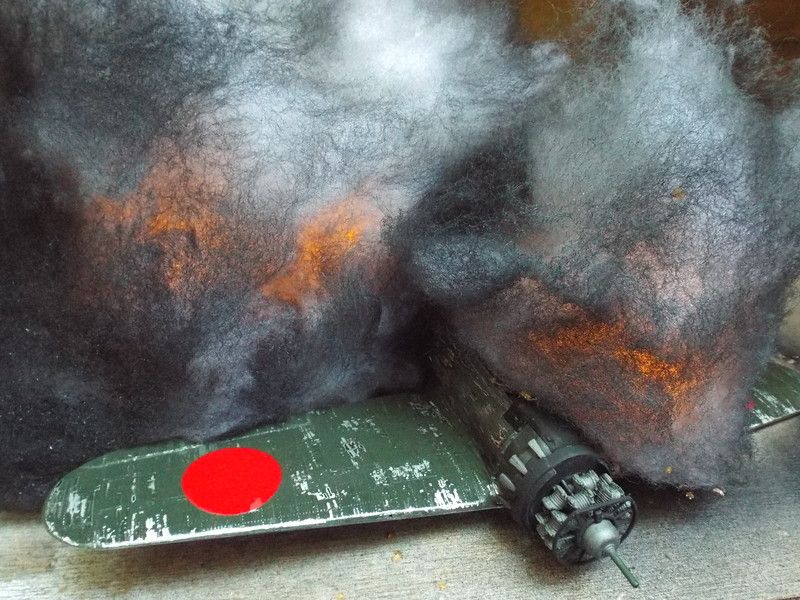 I've posted a short video of the same thing here:
https://www.facebook.com/groups/1502570 ... 4/?fref=nf
but I'm not sure if everyone (who wants to) will be able to see it - please let me know.
Cheers
Al.
EDIT: Youtube address here for those who don't do Facebook.
https://www.youtube.com/watch?v=at6LwQSDra0
July 21st, 2016, 9:38 pm
Really clever that!
July 22nd, 2016, 1:26 am
That would make for a terrific Age of Sail battle diorama.....
July 22nd, 2016, 2:49 am
Another something interesting to try.
July 22nd, 2016, 8:14 am
I shall have to experiment with this over the weekend.
I want to add some explosions to a WW1 diorama and I've been looking at some other ideas.
Perhaps all of them mixed up will do the job.
July 24th, 2016, 12:24 am
Have you looked at the Arduino micro computers, that cost anything from £2 upwards, you can programme them to flash LEDs randomly and run off any thing from 5v to 20v.
I have programmed one to illuminate a card shop that came free with a model railway mag, on the ground floor it has two white LEDs that are on all the time, on the second floor there are three LEDs red, blue & green, each of them flashes at random flicker rates and brightness to represent TV flicker and on the top floor I have 1 LED that comes on and off every 30 seconds.
The Arduino mini I use is only about the size of the top of you thumb and runs of a simple 9v battery.
Programming the Arduino is simple using free software and a USB port, all you need is a soldering iron and you imagination.
Here is a link to the Arduino website to give you an idea what I'm on about
July 25th, 2016, 11:06 pm
Which one exactly have you got mate and how much was it? I looked on the site but they look quite expensive e.g. 25-50 euros or more.

Cheers
Al.
July 28th, 2016, 12:36 am
beany wrote:Which one exactly have you got mate and how much was it? I looked on the site but they look quite expensive e.g. 25-50 euros or more.

Cheers
Al.
I use the Arduino mini, for small projects like Ho/oo house lights, for bigger products I will use the bigger versions, if you search eBay you will find them for a fraction of the cost of the genuine Arduino website or Maplins
Here is a link to a uk seller on eBay selling 5 with the sub control board for £12.99 so about £2.60 each
http://www.ebay.co.uk/itm/5x-Arduino-compatible-Pro-Mini-5-Volt-ATMEGA328-5v-TESTED-UK-STOCK-/161805079939?hash=item25ac559583:g:Mk0AAOSwDNdV3HRY
Because Arduino have made the whole project open source, this means the Chinese can leagaly make and sell copies brining the cost tumbling down
December 11th, 2016, 9:43 pm
This is something I might well look into myself. We've used arduinos in work to light mock up aircraft seats but I hadn't considered using them for modelling.
December 12th, 2016, 8:22 pm
Daz The little Arduino's are cheap as chips and simple to program, the only limiting factor is your imagination.